Only Two Weeks Left!
You probably know that. But we definitely know that. The fur is flying around the compound (Yeti fur, Baby Miniature Dire Goat fur, Minion #7 fur...) and The Overlord has taken to lurking. Like, all the time lurking. It's super...great. We love having The Overlord behind us every time we turn around. Anyway, here are a few important updates we thought you might want to know before time runs out...
We have lodging. Not a lot, but some. We currently have one room someone would like to give up in the Winsborough (1 single bed, shared bath), and two rooms at the Glen Rock Apartment (2 single beds per room, shared bath...kitchen in the apartment). Want 'em? Go get 'em!
Got your Info Packet? If for any reason you did not automatically receive the pre-con info packet in your email when you bought your ticket, you can download it right over here. Please read it. It will make your life better, we promise.
Help us spread the word on Sunday, the

Day of Scarefest Solidarity

! Yes, we totally just made that up. But The Overlord says we're really close to having a Full House (whatever that means) and that makes everything better, somehow. So this Sunday, could you take a couple of minutes to post a link to our site (http://avlscarefest.com/) on your Facebook page, Twitter, blog, etc. that you're going to Scarefest and all your friends should come, too? And if you want to talk about how much fun/how terrifying Scarefest is, you could do that too (but we'd never ask you to).

New Prize Peek is up! Come see more of what we're giving away this year!
Do you know about our X-Wing Tournament? It's totally happening. Saturday morning through afternoon, in our Special Sci-Fi Spacement (along with Artemis, Starfinder, and more) and you can find the rules over on our Warhorn. Help spread the word!
Last minute PFS updates: Due to popular demand, another table has been added to both specials, so if you want to play and haven't grabbed your seat, best do it now! Also, a couple of games have been changed up (only ones with no signups thus far), so you should check out the new games in the schedule.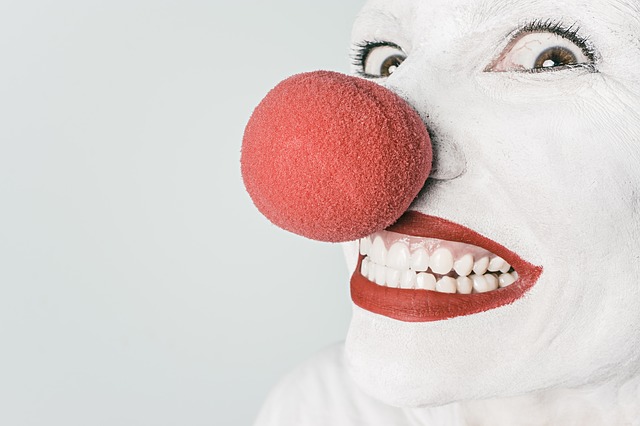 Minion Corner...surrender has its limits.
Welcome to our ongoing section, Minion Corner, where we Minions get to tell you a little about our lives and what goes on outside the spotlight (Minion #22 has been taking a psychology course and says it will be "cathartic").
Given the level of panicky activity at them moment, we have very little time to write, but the brief update goes like this: just when we thought we'd reached a kind of equilibrium with the whole situation, Hilda brought a clown into the compound. Obviously, this is not OK. Obviously, The Overlord will object. We have been waiting for The Overlord to object for two days. We've been waiting while the Yeti showed off the Baby Miniature Dire Goats' new tricks (they can walk on their hind feet while whistling "This Is Halloween" through their teeth). We've been waiting while the clown made balloon animals and left them around the office and on our beds. We've been waiting while we avoid the break room, where the clown tends to lurk, standing silently behind the refrigerator door and smiling while you search for your lunch. But The Overlord has been strangely absent whenever the clown is around. It's like the two cannot exist in the same space at the same time.
We're very afraid Something may have happened.