Abettor Highlight: CAFCON Fantasy, Gaming, and Roleplaying Convention

Once again this year, one of the fabulous prizes we will be giving away at Scarefest will be two tickets to our sister convention down the hill in Morganton, NC. CAFCON is a sweet little con with friendly people and a wide variety of games. Here's what they have to say for themselves: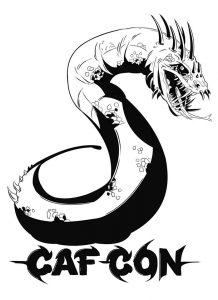 Held annually in the foothills of the North Carolina Appalachian Mountains, CAFCON Fantasy, Gaming and Roleplaying Convention brings together great personalities, fantastic games, and awesome fun! Whether you are into card games, tabletop board games, or RPGs, CAFCON will have what you are looking for. Join us April 7-8, 2018, for we have games and events that will both challenge and entertain you.
Our mission at CAFCON is celebrating the player and the game. Always has been… and always will.
Glory awaits!
Find out more at their website: www.cafconrpg.net
Over on Facebook: http://www.facebook.com/CAFCONRPG/
And on Twitter: www.twitter.com/cafconrpg