Game Highlight: Cryptworld!
EVIL STALKS YOU IN THE DARK OF NIGHT — KNOW ITS WEAKNESS OR FALL VICTIM TO ITS HUNGER!!
Cryptworld is a horror role-playing game from Goblinoid Games' / Pacesetter in which you investigate and hunt the forces of the fantastic and unexplained. Classic horror, slasher horror, alien menaces from the stars, and interdimensional monsters: all these terrors and more stalk you in CRYPTWORLD! This year we're proud to offer two different Cryptworld scenarios: Condition Critical and Unquenchable, both written by Tim Snider who will be running the scenarios. Not to be missed!  So sign up now and get ready to get your game on!
Condition Critical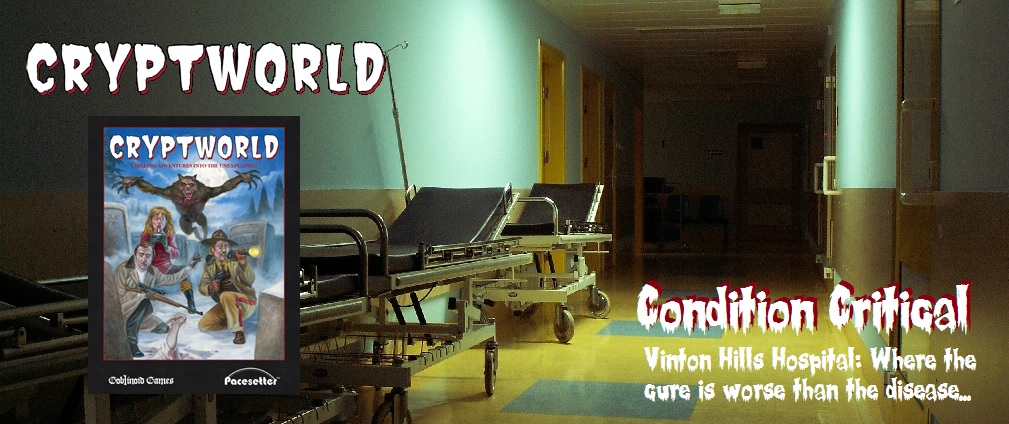 Years ago, Dr. Howard Eastman was accused of illegal medical experimentation, leaving the field of medicine in disgrace. He has now resurfaced, calling a press conference at his remote research facility to announce a medical breakthrough that will "eradicate human illness and suffering forever."
But what if this "cure" proves to be worse than any disease?

Condition Critical will be running in the 7:30-12:30PM slot on Friday night.
Unquenchable

Three days ago, a group of hunters failed to return from their annual hunt. Your team of expert trackers and investigators have been brought in to assist in the search. But there seems to be an undercurrent of unease amongst the police who whisper of a disturbing discovery they've made deep in the woods…
Unquenchable will be running in the 1:30-6:30 slot on Saturday afternoon.